Paul and Joe Whitening Emulsion:
What it claims: preserves the transparency of the skin and provides continuous moisture. P&J WE effectively controls melanin production, while protecting skin from harmful external agents such as UV rays. This highly effective whitening emulsion is easily absorbed by the skin, leaving it translucent and radient.
Active Ingredients: elder extract, grapefruit extract, horse chestnut extract, hawthron extract.
My experience: LUV IT! I luv the smell of it! it smells like oranges or something citrusy! Ive been using it for a couple months now and i did c a difference! My skin looked whiter :D!... but then i went into the sun and kinda defeated all the hard work :(! but overall i think it does work!
Skinfood Fermented Pomegranate Whitening Sleeping Mask: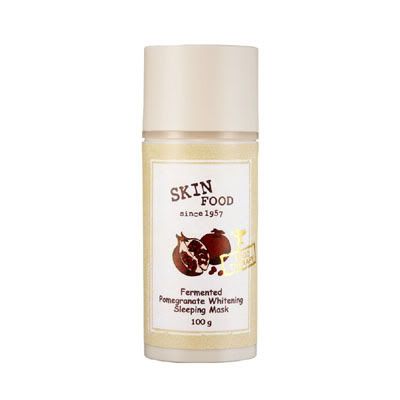 What it claims: Sleeping mask with cosmeceutical skin lightening essense based on Fermented Pomegranate Extracts to brighten your skin during night sleep.
My experience: I got this to replace my Laneige sleeping mask cuz its seems to be getting more $$$ :(. But neways i c no difference with whitening but after applying it on at night it does feel more moist in the morning.
Philosophy Booster Caps:
What it claims: booster caps with retinol help reduce the appearance of fine lines, wrinkles and uneven skin tone. Protein-rice dermochlorella helps improve skin's texture and smoothness.
Ingredients: cyclopentasiloxane, dimethicone crosspolymer, trimethylsiloxysilicate, c12-15 alkyl benzoate, maltodextrin, retinol, chlorella vulgaris extract, methyl methacrylate/glycol dimethacylate crosspolymer
My experience: LUV THIS!! :D!! When i have like a scratch or a mini skin tear or something. I apply a little bit of a capsule over it at night and the next morning the opening is closed!! :D!! I got it in a set but alone its SOOOOOOO $$!! like 50$ for like 60 capsules >